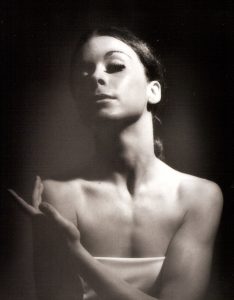 Margot Grimmer
" Margot Grimmer, a great beauty with a magnificent technique, was breathtaking in an elaborately staged piece she choreographed to a rock score."
-Ann Barzel, Critic of Chicago Today, 1972
When I was eight, I aspired to be a US Senator or lawyer but soon discovered performing on stage to be intoxicating. Because I was hyperactive as a child, my mother enrolled me in dance classes after searching for a constructive outlet for my enormous energy. At first, I disliked the discipline of classical ballet and wanted to quit, but my firm and foresighted mother would not allow it. Her tenacity paid off. At eleven, I was one of 50 selected from 3,000 applicants for the children's ensemble of the New York City Ballet's Chicago production of The Nutcracker. I became a professional dancer at 14 after successfully auditioning for the Kansas City Starlight Theater. Over the next 12 years, I danced with the St. Louis Municipal Theater, the Chicago Music Theater, the Lyric Opera Ballet, Ruth Page's Chicago Opera Ballet, the International Ballet and the Ballet Russe de Monte Carlo in New York City in productions starring Jacques d'Amboise, Erik Bruhn, Carla Fracci, Melissa Hayden, Allegra Kent, Rudolph Nureyev and Maria Tallchief. During off-seasons, I majored in English and studied acting at Northwestern University. I did extensive TV commercial and industrial film work. In 1967, I starred in Statics, an international film festival award winning experimental dance movie.
In 1970, I assumed the directorship of the Eric Braun School of Dance in Highland Park, IL after the former American Ballet Theater star's untimely death. During the next 17 years, I reached the pinnacle of my performing and creative power as artistic director, principal dancer and choreographer of the American Dance Company and director and teacher of the American Dance School. I trained over 2,000 aspiring young dancers. Several went onto professional careers. I created more than 20 multi-media ballets, many of them funded by grants from the Illinois Arts Council and the National Endowment for Arts. I performed with my company at the Ravinia Festival in 1973, with the Chicago Symphony Orchestra in 1974, on the Bob Hope Show in 1975 and in the 1976 Bicentennial at the Kennedy Center for Performing Arts in Washington DC. My career achievements have been documented in Who's Who In America. Memorabilia relating to my career is chronicled in the Dance Archives of the Newberry Library in Chicago.  I am currently writing my Born To Dance career memoir with the goal of publication in 2018.
Beginning in 1993, I tapped into a lifelong passion for film and photography and honed my skills by shooting my daughter's theatre and dance performances. In 2001, I co-founded Déjà vu Videography in Northern California Wine Country. For over a decade, I have brought a dancer's innate sensibility for movement and passionate eye for beauty in capturing the dramatic moment and a choreographer's sense of pace, balance and feel to editing weddings, Mitzvahs, birthdays, anniversaries, theatrical productions and corporate projects. Over the course of my dance career, a quicksilver thrill raced through me whenever the house lights dimmed before a performance. When I shoot and edit special events and commercial films, I feel the same exhilaration, loving every minute of the entire process.